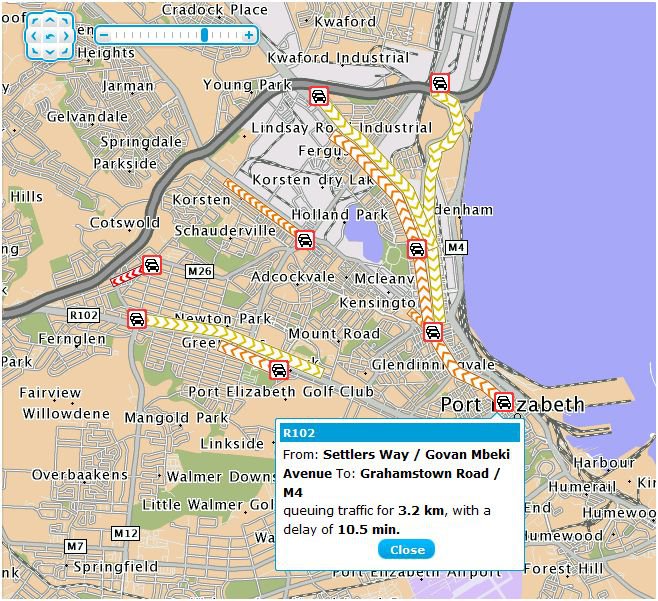 The World Cup has shown South Africans how important traffic information on heavily congested roads near Sports Stadiums could be! But where do we find this important information that is 'Real Time" and not the delayed reports from many radio stations?
TomTom, the world's leading provider of navigation solutions and digital maps, has recently announced the availability of its unique 'LIVE' Services offering with real-time HD Traffic™ information, in South-Africa.
Next to real-time traffic updates, drivers will receive timely safety camera alerts to enhance road safety and avoid fines. Furthermore, commuters will be able to navigate to millions of locations through Local Search with Google and receive up-to-date weather reports.
"We are constantly launching innovating technologies to save the driver's time, money and fuel." says Joost Jetten, Vice President Sales Sub Sahara Africa. "Our unique innovations guarantee the fastest routes, so users are empowered to confidently deal with the ever-changing road situation we face in South Africa."
The new service is available on the new TomTom GO 750 LIVE and includes features such as: High Definition Traffic (HD Traffic™), for the most accurate and current traffic information in South Africa; Safety Alerts that warn of fixed safety cameras ahead; Real-time safety camera reporting and sharing means that users can keep each other informed about mobile safety cameras; Local Search with Google, allows users to navigate to millions of locations at the tap of a screen, such as restaurants, shopping malls or the nearest cinemas; The latest weather updates including a five-day weather forecast.
The TomTom GO 750 LIVE is TomTom's flagship product, which benefits from improved sound quality for clear voice instructions, as well as a new 'frequent destinations' menu that calculates a route to a frequently visited destination easier and faster.
The GO 750 LIVE includes a 1-year LIVE Services subscription and sells for R3 299.00. The LIVE Services subscription will cost R499.00 for the second year.