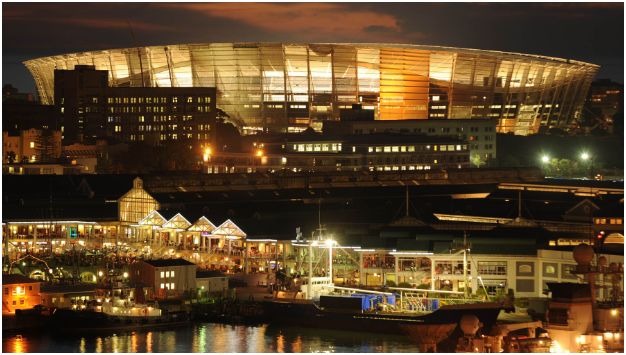 TomTom symbol of Dutch pioneering business spirit
Johannesburg, 2 December 2009 – On Thursday 3 December, Dutch and South African entrepreneurs will gather with international football stars to prepare for the draw of the FIFA World Cup. TomTom, a Dutch based company is sponsoring the event symbolizing Dutch entrepreneurial development in South Africa. "This event will be the start of TomTom's involvement and continued support in the 2010 World Cup", says Joost Jetten, Vice President Sales Sub Sahara Africa.
The event will take place in Cape Town at the foot of Table Mountain, in the Zip Zap Circus. The event will carry an orange theme in line with the national colour of The Netherlands and in line with the Dutch pioneering spirit. The 'walking dinner' will be attended by 300 International guests, together with TomTom, they will enjoy inspiring presentations and acts, explore new business opportunities as the Dutch National Team will be selected.
"We have sponsored this event as there are strong alliances between TomTom and the Dutch soccer team, in the way we do business and the way the country is so passionate about soccer. It is our aspiration as well as that of the Dutch Soccer Team to make it to Soccer City nearing the end of 2010", says Joost Jetten.
Raffle for Hillbrow Youth Development Program
The Dutch Embassy and the entrepreneurs are very invloved in the community, therefore a fundraiser will be held and all funds will be donated to the Hillbrow Youth Development Program in Johannesburg. TomTom will be donating TomTom PND devices towards the raffle.
Dazzling program of international stature
This event will be presented by Topbilling presenter and former miss South Africa, Jo-Ann Strauss. A dazzling 'free style soccer' show by Zip Zap Circus will be the opening act. They combine modern choreography, a pumping beat and moves from a street dance culture with soccer tricks. The South African playwright Mike van Graan will use satirical sketches from his 'Bafana Republic' show to look forward to the upcoming 2010 FIFA World Cup. The evening will be closed by a celebrated Dutch female singer from international stature, Trijntje Oosterhuis. A key role will be played by two very successful Dutch female entrepreneurs, Marlies Dekkers and Margot Janse. Former football star Ruud Gullit is present as representative of The Holland Belgium Bid, the candidacy for the World Cup in 2018/2022.
About the theme Pioneership Reloaded
The Netherlands is known worldwide for its fresh insights and unusual approach. It is exactly what Dutch Entrepreneurship stands for: "Pioneers in International Business". Heading towards the Fifa World Cup 2010, the Dutch Embassy in collaboration with Dutch corporates and entrepreneurs in South Africa, showcases what it entails to be a pioneer in today's business world. Besides, these key characteristics are a perfect match with the way Dutch football style; attractive, offensive and creative – after all, the national team was the first European team that qualified for this World Cup. Creative Dutch/Capetonian entrepreneurs Real Life Concepts (concept en creation) and Hospitality Affairs (event organisation) took the initiative to reload the term 'pioneers' in cooperation with the Royal Dutch Embassy.
About TomTom
TomTom NV (AEX: TOM2) is the world's leading provider of navigation solutions and digital maps. TomTom NV has over 3,300 employees working in four business units – TomTom, Tele Atlas, AUTO and WORK.
TomTom's products are developed with an emphasis on innovation, quality, ease of use, safety and value. TomTom's products include all-in-one navigation devices which enable customers to navigate right out of the box; these are the award-winning TomTom GO family, the TomTom XL and TomTom ONE ranges and the TomTom RIDER. Additionally, independent research proves that TomTom products have a significant positive effect on driving and road safety.
Tele Atlas delivers the digital maps and dynamic content that power some of the world's most essential navigation and location-based services (LBS). Through a combination of its own products and partnerships, Tele Atlas offers digital map coverage of more than 200 countries and territories worldwide. The AUTO business unit develops and sells navigation systems and services to car manufacturers and OEMs. WORK combines industry leading communication and smart navigation technology with leading edge tracking and tracing expertise.
TomTom NV was founded in 1991 in Amsterdam and has offices in Europe, North America, Middle East, Africa and Asia Pacific. TomTom is listed at Euronext Amsterdam in The Netherlands. For more information, go to www.tomtom.com