PRETORIA, GAUTENG, 10 APRIL 2019 –  Returning to popular Tierpoort Adventure Farm, South Africa's biggest WARRIOR event was a day of adrenaline-pumping action, epic family fun and loads of excitement for participants of all fitness levels.
The third instalment of the 2019 Toyota WARRIOR Series, powered by Reebok, was a massively-successful, sold-out event that saw over 3500 men, women and children of all ages, shapes and sizes face the best OCR trails in Gauteng.
The event also saw little adventurers experience the specifically-designed 1km, 8-obstacle course and exercise their bodies and minds to #BeMore because it's never too early be a WARRIOR.
The highlight of the event was the high-action, Black Ops Elite race, that saw 'new contender', Bradley Claase storm ahead of Thomas van Tonder (RedBull) who finished second, and Claude Eksteen (Air Team) who took third place, to seize his first ever WARRIOR victory by a margin of 32 seconds and 1 minute 57 seconds respectively.
Said Claase after his maiden win– "What I once thought was impossible has become a reality. I finally have a WARRIOR Race Black-Ops Elite win. What a day, what a race and what a feeling! I have learnt that achieving a goal opens up the mind to new possibilities."
In the Women's Black Ops Elite race, 2018 WARRIOR Series winner, Trish Eksteen (AirTeam) took the podium 2 minutes ahead of her team-mate, Nadene Cahill (AirTeam), with Cindy Wills (OCT South) who took the third position, 10 minutes behind Eksteen.
In the Commando Elite men's race, a 10 km, 22-obstacle course, Sphelele Hlengwa took first place (47m20s), Kelvin van Wyk came in second (49m47s), and Samuel Schollash took third place (45m57s).
The women's race was won by Helge Herbst (1h24m07s), in second was Elzani Lotter (1h25m20s), and taking third place was Tate Stewart (1h25m20s).
The shortest and most fun-packed race of the day, the Rookie, saw young athletes crawling, climbing and jumping through the course. The Rookie Elite men's podium finishers were Cayde de Waal (28m47s), Ricardo Rebelo (30m42s) and Charlie de Kock (32m10s), coming in first, second and third respectively. In the women's elite race Ashley Button (37m55s) took gold, Monique Else (30m29s) took silver and bronze went to Shay-Lee Hulley (41m,34s).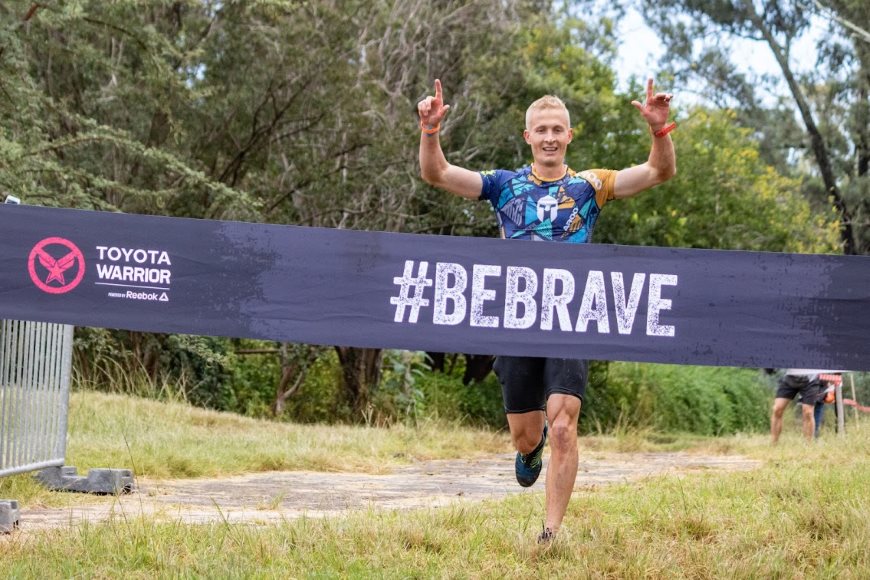 #BeMore and don't miss out on the Toyota #WARRIOR#4, powered by Reebok, on 20 & 21 July in KZN.  Visit www.warrior.co.za to enter today!
Results – Toyota Warrior #3
Black Ops Elite
Men
Bradley Claase             01:25:21
Thomas Van Tonder   01:25:53
Claude Eksteen            01:27:18
Women
Trish Eksteen               01:36:32
Nedene Cahill              01:38:38
Cindy Wills                   01:47:29
Commando Elite
Men
Sphelele Hlengwa      00:47:20
Kelvin van Wyk           00:49:47
Samuel Schollasch     00:45:57
Women
Helge Herbst               01:24:07
Elzani Lotter                01:25:20
Tate Stewart                01:25:20
Rookie Elite:
Men
Cayde de Waal           00:28:47
Ricardo Rebelo           00:30:42
Charlie de Kock          00:32:10
Women
Ashley Button           00:37:55
Monique Else            00:39:29
Shay-Lee Hulley        00:41:34
For the full results of Toyota Warrior #3, visit www.jumpertrax.com.
For more information or to enter, visit www.warrior.co.za.