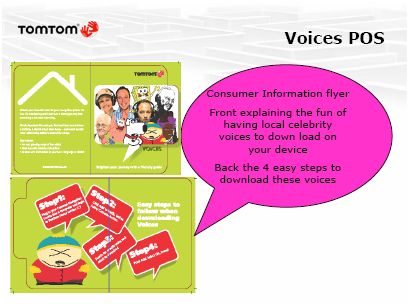 Even Choice has a Voice!
Tom Tom has done it again, you spoke and we heard. Available as a FREE download from TomTom Home (our user-friendly software) down load six of your favorite local celebrity voices.
DJ Fresh – Awarded radio personality of the year
Sasha – Formula 1 Fanatic
Mel Miller – Golden Oldie Comedian
Liezel van der Westerhuizen – TV Presenter
Beauty – Jacaranda's Radio personality
Darren Scot – Just Plain Breakfast show host and Super Sport TV Presenter
Choose from any of the above list and make your journey with TomTom a BLAST!
Launch date 12th April, promoters will be in stores on the weekends (Saturdays and Sundays)
Attached please find the promo items (insert for the mini deco towers already in store) and hand out (flyer explaining the download process) to customers
www.tomtom.com/southafricavoices