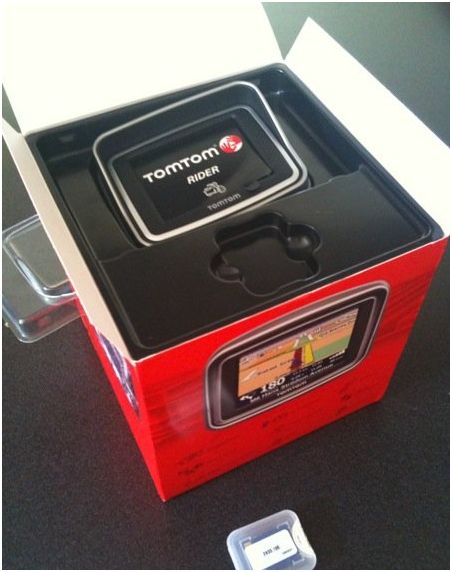 I have been amazed at the GPS technology available to bikers. In South Africa the number of bikers has significantly increased in recent years. We find more and better attended bike rallies and the biking clubs are getting stronger. I am aware of the very strong Harley Davidson group in Bloemfontein and know quite a few of the members who feel strongly about their bikes and travelling the outdoors!
South Africa has long roads through very scenic terrain and my friends tell me that the best way to view this scenic beauty is on a bike travelling to places like Clarens in the Eastern Free State! But are they able find a GPS device with functionality developed specifically for bikes?
One of my best friends recently acquired a TomTom Rider and is very much impressed with the functionality it offers. I have asked him to take a few photos on his travels and to share his experience with this device.  We will provide more feedback during and after the festive season on this device and whether it can assist South African bikers to enjoy their travels safely, knowing that they will find their destinations with ease!
The functionality of the TomTom Rider includes:
Ease
Just plug in, switch on & RIDE
Simple touch screen operation: Drive mode tailored for use with gloves on
Clear and accurate: turn-by-turn spoken instructions
Crystal-clear 3D and 2D graphic
Compact and portable design
Door-to-door planning in your region
View route: review and test the calculated route before you actually start driving
Dynamic status bar: improve readability by customizing status bar
Tip feature: discover everything RIDER has to offer through useful onscreen tips
Extensive guided tour: pick up the features even quicker and get the maximum out of your TomTom RIDER
Smartness
Water resistant and rugged
Fits both bikes and scooters: with a mounting kit of four pieces to adapt to your 2wheels.
In helmet spoken instructions: bluetoothTM headset included
Anti-glare screen: always an optimal view, even in direct sunlight
A choice of routes: quickest, shortest or avoiding toll roads
Itinerary planning: plan your trip by defining multiple waypoints and destinations
Integrated GPS antenna
You can use RIDER also in a car: Just fit the optional car mounting kit on the windscreen of the car, switch on and you're on your way.
RIDER recognizes if you are in a car or on a motorbike: There's no need to adjust RIDER for use in the car – it automatically switches from glove-friendly to in-car mode for driving, and it allows you to make and take calls any time on the move too.
Multi lingual: speaks more than 30 languages in over 50 voices
User interface: now including 18 languages
Postcode Navigation: for simple and accurate selection of your destination (UK & NL only)
Thousands of points of interest available
Call a POI: directly call a point of interest through the RIDER
Make it your own: save personal favorite addresses for quick route planning
Compass mode available: displays compass on screen to have even more orientation while driving
Get free scenic routes: offered by TomTom PLUS
Connectivity
Ready for TomTom PLUS Services: get scenic routes for free and try out traffic service for free for a month
USB 2.0: for faster data transfers
Hands-Free Calling via Bluetooth™: connection with a compatible* mobile phone
(For safety reasons it blocks outgoing calls while the bike is moving, but if you choose to accept an incoming call it is automatically routed to your helmet. When the bike isn't moving or you have stopped for a break you can make and receive calls normally).
We will write more on the TomTom Rider in a series of Blog posts on fuctionality, specs and biker experience!
Also view:
• GPS and Road Safety
• GPS Navigation Technology and buying a GPS Device
• GPS works best in partnership with common sense