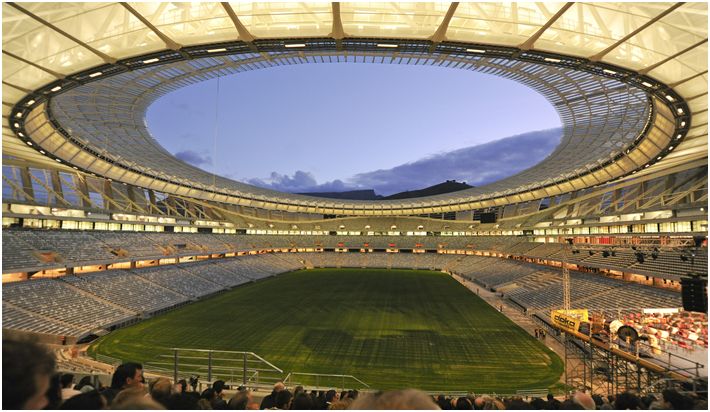 [Photo from www.capetown.gov.za ]
I have come across an interesting dilemma facing foreign visitors to the Football World Cup in 2010. Will these visitors easily find their way to football stadiums and other points of interest?
South Africa's confusing town and city names will cause "difficulties" for travellers during the 2010 Soccer World Cup, local organising committee head Danny Jordaan said in Parliament recently.
"The travelling fans are going to have difficulties to get to the places whose names are not clearly on the directional signs or on the airport destination boards," he told MPs.
"If you travel from Johannesburg to Nelspruit, the signage is not always clear. If you go to Nelson Mandela Bay you are not going to find a sign at the airport. No plane goes there. Yet you get off and there is a big sign saying 'welcome to Nelson Mandela Bay'."
Cities such as Port Elizabeth may have to consider joining the name with Nelson Mandela Bay, Jordaan said.
"The same applies to Mangaung. You drive to Bloemfontein but you get welcomed to Mangaung. Even when you go to Polokwane, somewhere you go through the second toll gate, there is a sign saying you are some kilometres from Pietersburg. Then the board changes to say how far you are from Polokwane. These are things that are going to have to be sorted out."
This dilemma might require pro-active efforts from officials across different spheres of society. Not only will there be a need to add new signs and produce new maps, but awareness efforts will be required from the Football organizing committee. Perhaps the best solution to avoid getting lost is to be found in the benefits of GPS Technology / Satellite navigation!
Many of our visitors will be travelling with GPS devices and it should be possible to find the exact GPS Coordinates of newly built stadiums. The POI / Points of Interest feature on GPS devices could save the visitors from getting lost and the risk of travelling to unsafe locations!
The GPS device can swiftly and effectively re-calculate the route to the destination in the event of road closures and will provide greater safety on the road despite the other uncertainties presented by changing names!
Also view:
• GPS and Road Safety
• GPS Navigation Technology and buying a GPS Device
• GPS works best in partnership with common sense