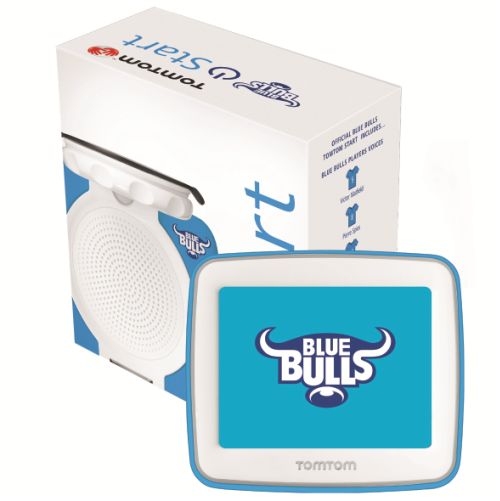 ~ Let Victor Matfield tell you 'you've reached your destination' or allow a convincing Morné Steyn to navigate you to the nearest golf course ~
South Africa, Johannesburg, 19 March 2010 – TomTom has launched a limited edition TomTom Start with the famous South African rugby team Blue Bulls from Pretoria.
The world's leading provider of navigation solutions and digital maps has launched this special TomTom Start with an official licensed Blue Bulls start skin™, Blue Bulls pouch, Road to Victory DVD and Blue Bulls start up and shut down screens.
"Your 'Bull' will never leave your side," says Joost Jetten Vice President of Sub Sahara Africa. "You can feel like a champion as your Blue Bulls idol navigates you to your favourite destination – ensuring your trip is fun, safe and on time."
The device comes pre-installed with five Blue Bulls players' voices: Blue Bulls captain -and the man of many women's dreams – Victor Matfield; Morné Steyn; "The Twin" Akona Ndungane; the youngest player ever to play for the Blue Bulls, Pierre Spies; and Francois Hougaard. Each will be able to navigate you to his own favourite point of interest that also comes pre-loaded on the device.
The TomTom Blue Bulls device is very easy to use and has all the quality features you'd expect from TomTom, making it the ideal device to help navigate your way from rugby matches to braai's.
TomTom understands the passion that drives the Blue Bulls supporters. Featuring a simplified interface with only two start-up icons and semi-integrated EasyPort™ mount, this exclusive Blue Bulls device is not only functional and safe – it's a great way to ensure you reach your destination feeling like a champion.
The Blue Bulls package will be available from the end of March 2010 at selected retail stores nationwide, Makro, CelluCity, Agrinet and Vodacom, retailing at R 1799.00. For more information visit TomTom's website www.tomtom.co.za