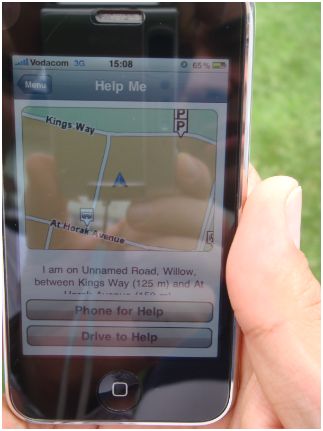 Latest features include navigate-to-photo and optimisation
for iPhone 4
South Africa, Johannesburg
– 02 September, 2010 –
TomTom, the world's leading provider of location and navigation solutions, announces that a new update to the TomTom App for iPhone is coming soon. The new update demonstrates TomTom's commitment to provide continued innovations and an enhanced navigation experience.
Now, TomTom users will have a new way to enter destinations using photos and turning their photo gallery into an address book. Additionally, iPhone 4 users will experience faster and more-responsive navigation, and with support for retina display, will enjoy enhanced graphics.
The TomTom App for iPhone version 1.5 will feature:
– Navigate-to-photo – Users can easily navigate to a location by selecting a photo stored in the iPhone gallery. Locations are identified by geo-tags.
– Optimisation for iPhone 4 – Takes full advantage of the capabilities of Apple's latest iOS device, the app now delivers high resolution graphics, sharper maps, more-responsive menus and improved positioning even in areas with limited GPS reception.
– Latest, most up-to-date maps – Because on average 15% of roads change every year, the TomTom App comes with the latest and most up-to-date maps. No mobile signal or data plan is required to browse the map and navigate to a destination.
"With nearly 45 million drivers worldwide relying on TomTom navigation, we have the expertise to deliver iPhone and iPod touch users the smartest and easiest-to-use navigation experience available," said Joost Jetten Vice President Sales Benelux and Sub-Sahara Africa. "As we build upon TomTom's expertise and refine it for the iPhone, we are focused on meeting consumers' needs through our continued product innovations and support of Apple's advancements."
With the latest update to the App, users will continue to benefit from TomTom's industry-leading navigation features, including:
– IQ Routes™ – Only TomTom uses actual speed data collected from millions of users to accurately calculate the travel time of your route. It allows for rush hour, traffic lights… even shopping crowds. So no matter what time it is, you can rely on IQ Routes to tell you when you'll get there!
– Spoken street names** – Provides turn-by-turn spoken directions.
– Advanced lane guidance – Extra clarity when navigating difficult junctions by showing the user which lane to take for an upcoming exit.
– Local Search with Google™ – Allows a user to locate and route to countless points of interest (POIs) by tapping into the latest local Google listings from within the TomTom App.
– Multitasking functionality*** – Allows a user to receive turn-by-turn directions while the iPhone is running other applications.
Price and availability:
The TomTom App for iPhone is available for purchase via iTunes / App Store . Continental and regional versions of the TomTom App are available today for iPhone 4, iPhone 3GS, iPhone 3G and iPod touch users at http://www.tomtom.com/tomtom-app
Pricing varies by market. TomTom Western Europe and regional apps are currently available at the starting prices of R 668.40 (€69.99) and R 477.40 (€49.99), respectively.
TomTom App for iPhone runs on OS 3.0 and iOS 4, however users should upgrade to iOS 4 to be able to take full advantage of the application's features.
* Feature available in Belgium, France, Germany, the Netherlands, Portugal, Switzerland and the UK.
** Please check in the local App store for availability.
*** Available on iPhone 4, iPhone 3GS & iPod touch 3rd Gen. running IOS4.