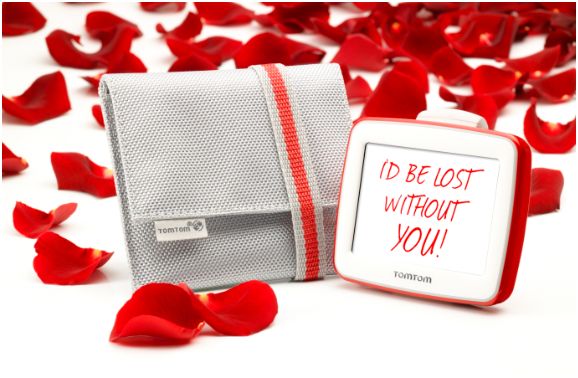 TomTom has released a specially designed gift for Valentine's Day. The 'I'd Be Lost Without You' navigation package includes a pure white TomTom Start, Flaming Red StartSkin™, carry bag and pre-loaded Points of Interest (POIs).
The TomTom Start is easy to use and has all the quality features you'd expect from TomTom, making it the ideal Valentine gift for technology lovers – or novices – everywhere. Belinda Parmar, Founder of Lady Geek consultancy*, thinks it's a great Valentine gift idea for women. She says, "TomTom understands what women want; simple, intuitive technology that is a joy to use." But it's not only functional; the TomTom Start is great fun too. The device comes with exclusive red accessories in a Valentine package designed to set hearts racing.
The Flaming Red StartSkin included in the 'I'd Be Lost Without You' package ensures the device is dressed to impress – and there's even a matching carry bag to protect the screen from scratches. The Points of Interest (POIs) cover a wide range of destinations, including restaurants, hotels and cinemas, making it perfect for couples spending time together on Valentine's Day. What's more, you can keep on updating the 'I'd Be Lost Without You' device to match your style after Valentine's Day is over. Other Start Skins are available to buy separately, and more POIs, start-up screens and funny voices can be downloaded using the free TomTom HOME software.
The user-friendly device and themed accessories add up to a fun, practical gift for your loved one. As Belinda Parmar continues: "TomTom Start does not conform to stereotypes of flashy gimmicks and special effects. It has one aim which it delivers on: making your life easier. And the best thing is you do not need to read a manual the size of War and Peace – it is intuitive technology at its best.
At last a technology company that is putting more thought and understanding into to how real women actually use and engage with technology in the real world." The 'I'd Be Lost Without You' package will be available from February in Game, HiFi Corportaion, Incredible Connection, Makro, Automobile Association (AA) stores, Lab88 and Agrinet with a recommended price of
R 1599.00. For more information please visit www.tomtom.co.za
-ENDS-
Notes to editors
About TomTom Start
TomTom Start standard key features include:
Easy to use
• Plug and Go – no installation needed, just plug in and tap the touch screen
• Simplified menu – two simple buttons: 'Plan route' and 'Browse map'
• Lightweight (128g) device with a 3.5" screen and semi-fixed EasyPort™ mount that folds neatly onto the back of the device, making the device simple to remove and carry
• Clear voice instructions
Best maps
• Map Share technology – thousands of free map corrections made by TomTom users every day
Enhanced safety
• Realistic visual instructions – replicated road signs, making them easier to follow
• High quality speaker – for voice instructions at an adjustable volume
• Help menu – provides direct access to emergency numbers and directions to the nearest emergency providers
Accessories
• USB car charger
• Promotional home charger also included
• Red skin cover & carry bag
* Lady Geek advises technology companies on understanding and selling to women. See http://ladygeek.org.uk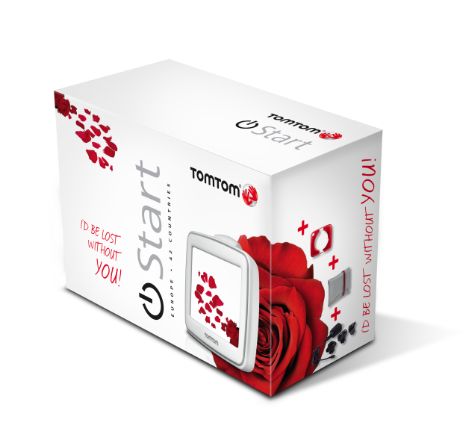 For more information, images and samples please contact:
Media Enquiries
Jeanre Ruddy
CRAVING NOVITY