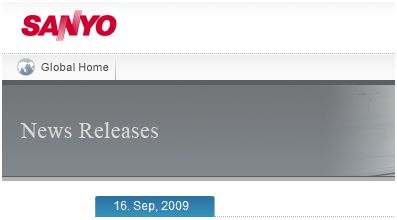 We would like to share this important media release:
SANYO Electric Co., Ltd. (SANYO) is pleased to announce that, by teaming up with TomTom NV (TomTom), SANYO Consumer Electronics Co., Ltd. (SANYO CE), a consolidated subsidiary of SANYO, is going to advance into the European and North American in-car navigation system markets.
Built-in car navigation systems are mainstream in Japan whereas PNDs (portable navigation devices) are most popular in the global market, particularly in Europe and North America (nearly 40 million PNDs were sold worldwide in 2008). Built-in car navigation systems are also limited mainly to luxury car markets (nearly 10 million of them were sold worldwide in 2008, of which 4 million were sold in Japan).
The market has shown that there is now strong demand for navigation solutions that combine both the best features of portable navigation with the benefits of "built-in type" car navigation systems thanks to the neat fit with car interior designs. Car manufacturers are also seeking more and more models with a strong focus on the duo function of "PND + car audio system." Additionally, as the automobile markets are gradually shifting focus to eco cars and small cars, built-in car navigation systems with the "PND + car audio" function will become especially important and are expected to soon catch up in the market to become mainstream products.
Tarold Goddijn, CEO of TomTom, commented, "We are excited to team up with SANYO to bring built-in all-in-one multimedia navigation to automotive manufacturers. This all-in-one multimedia solution will combine SANYO's audio video infotainment experience with TomTom's in-car navigation technology." He added, "With this collaboration to develop high-quality multimedia navigation systems, we are extending our automotive product portfolio and are being able to address new market segments in the US and Europe."
Nobuaki Matsuoka, President of SANYO CE, commented, "We will harness our strengths together with TomTom's strengths and work hand-in-hand to develop, produce and supply car manufacturers with built-in car navigation systems which can take on global market competition."
Both companies have already started negotiations with car manufacturers and co-produced model products with the goal to have them included for release to the public by the end of 2010.